The UR Light Center Lodge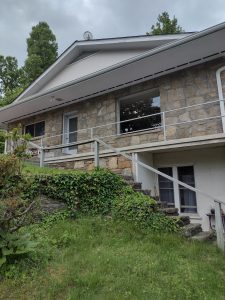 The Goure residence is where it all began, back in the '70s, with the Goure family, friends and prayer groups envisioning a Light Center dedicated to prayers for the planet. In 1992, the Goure's home was purchased by United Research, Inc. so that it would remain an integral part of the United Research (UR) mission to serve humankind.
Now referred to as The UR or the Light Center Lodge, this wonderful stone structure currently has 8 suites available for Light Center visitors, spiritual workshop participants, and personal retreats. The Lodge is also an ideal spot for group events, classes, and in-residence workshops. There are no TVs, and it is an alcohol free, pet free facility.
Open year-round and within easy walking distance to the Light Center, the Lodge is renovated with a well-equipped, spacious kitchen. Kitchen amenities include two refrigerators, two dishwashers, and shelf space for personal food items. Each of the eight bedrooms have their own private bathroom.
A deposit is requested to hold all reservations. A full refund is made if cancellation notice is received one week prior to check-in time, or two weeks' notice for multiple rooms or complete lodge bookings.
The spiritual artwork, stone fireplace, and deep serenity make it the perfect retreat location. Image yourself on our stone terrace sipping your favorite beverage while watching the sunrise or set over the Appalachian Mountains! We invite you to join us here at the spot many refer to as "their mountain home.
For further information or to make reservations, please contact the Lodge manager email at lodge@urlight.org or call (828) 669-0474.