Experience a place of prayer and meditation for individual and global growth.
Through inner work we tap into the Divine to become who we are meant to be – beings of Love and Light.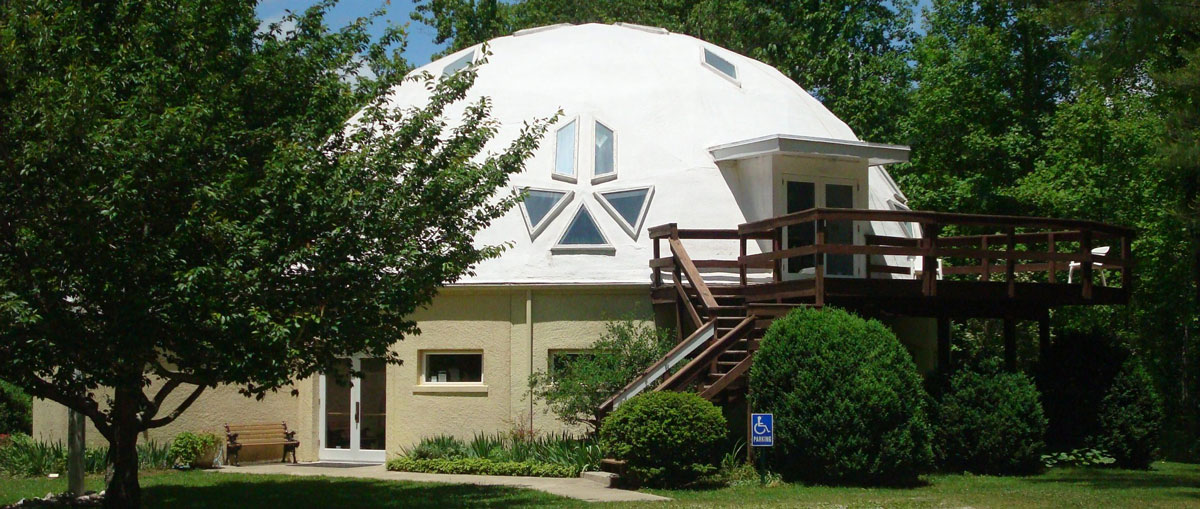 United Research, The Light Center was created as a secluded place where people could come to pray, meditate, and rejuvenate in the Blue Ridge Mountains. It is dedicated to prayer for individual and societal change.
Come visit our prayer dome, our healing light chamber, walk our wooded meditation trails, forest bathe, and stay in our beautiful lodge. The Dome is open Thursday – Sunday from 12 – 5 p.m.
Mission: To increase awareness of the Oneness of All That Is by expanding Light, Peace, and unconditional Love.
Vision: To provide an environment that supports individual and universal transformation through effective prayer, compassionate education, service and creating Good moment by moment.
Precautions During the Pandemic:
The United Research Light Center has taken steps to protect the health of our community during the Pandemic. Our efforts include: Installation of ultraviolet (UV) germicidal irradiation filters to control airborne infectious disease transmission through our HVAC systems, on both levels of the Light Center. Requiring that masks be worn when moving throughout the building, regardless of vaccination status. (We're following the mask mandate from the Buncombe County Commissioners.) Because of the UV filters, masks may be removed when guests are in the Light Chamber with their own group members, or when seated upstairs and socially distanced. Audience size is limited to 25 to allow for social distancing.
Join us for a Symphony of Spirit: A Celebration of You and the Song in Your Heart – United Research Advance
October 29 through 31st
In the beginning was sound: "In the beginning was the Word, and the Word was with God, and the Word was God."  In the beginning of us, of all creation, was this Divine Vibration.  By tuning into this Divine Vibration, we connect with the Divine Spirit, Divine Intelligence, and Divine Creativity within each one of us.  With many of us closed off to the much of the world during the past year-and-a-half, it may have been difficult for us to hear and connect with the Holy Sound within our hearts.
As we emerge from the pandemic, the intention with this year's Advance is to open our hearts and minds and souls to the Sound of the Divine: our intention is to let the songs in our hearts sing once again.  Please join us for this Advance…and be sure to bring that special song in your heart!
To Register:   
Prayer
Prayer is powerful.
When one's consciousness merges with the Divine, the heart's resonance communicates with All that Is.
Prayer
Connect
Whether attending an event, offering a retreat, or joining one of our meditation-prayer meetings, we are here to promote the Oneness of All.
Nature
Connect with nature in the Blue Ridge Mountains. Visit our geodesic dome, lodge, light chamber, and more.
Book a stay at the Lodge!
Creation Prayer received by Ariel Marsh
On arising each day, the words flow through me – – may I walk through this
day in wisdom, understanding, humility and courage as I pray:
I create Good, constantly and consistently on all levels and all dimensions
and to all kingdoms all of the time.
Whether I am awake or asleep I am creating Divine Light, Life, Love and
Good to everyone and everything in the earth and the cosmos.
I am a living Prayer creating the new Heaven and the new earth
within everyone and All That Is. And everyone I come in contact
with is changed to Divine Light and Good.
I am in constant Prayer for all nations and all leaders to be changed
to Divine Light, Life, Love and Good – and the entire cosmos works in
concert to Create more Light and more Good than there was in the
beginning.
And I create more Light and more Good in the Creator,
and we thank the Divine for making it so. Amen.