Sacred Circle Dances with Maggie Moon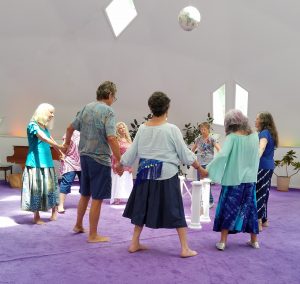 Spring Blessings! Let's celebrate the return of Spring with the joy of Sacred Circle Dance!
This Sunday our prayers will go out specifically to the people of the Ukraine and Russia.
Please come and bring a friend. At this time the Light Center and Maggie are still asking everyone to wear a mask. We will try to dance unmasked outside if weather permits, and hopefully can discard our masks in the next month or two.
During the winter Maggie has been gathering many wonderful new dances from all over the world that she is excited to share with you.
Since there could be a weather challenge in early March, please check your email for an update from me that day, before heading up to the Light Center.
The 2-hour session includes opening and closing rituals, silence after each dance, and personal sharing.
Sacred Circle Dance is a way to be connected to Spirit through our bodies, a form of moving meditation in the community of the Circle. The dances are simple repetitive steps holding hands in a circle, set to glorious music. Maggie Moon teaches each dance gently and carefully so that each person feels at home in the dance. No partner or previous dance experience required, all genders and abilities welcome, high school and older.
Maggie Moon O'Neill has been leading Sacred Circle Dance for over 20 years for groups large and small all over the country. Maggie worships with Quakers and Unitarians, and has danced in many parts of the world seeking spiritual wisdom. Her most recent journey pre-pandemic was to Egypt, where she danced and meditated at sacred sites, and felt a deep connection to Isis, the Great Mother. Her life's calling is to share Sacred Dance as embodied spirituality, a way to directly experience the Divine Feminine.
All proceeds benefit the Light Center.
Suggested donation at the door: $15