Sacred Circle Dance with Maggie Moon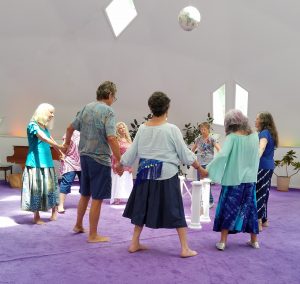 All are welcome! Please come and bring a friend, no previous experience required. Each dance is gently taught, with simple steps and glorious world music.
Suggested Donation $15, all proceeds benefit the Light Center.
Maggie Moon O'Neill has been leading Sacred Circle Dance for over 20 years for groups large and small all over the country. Maggie worships with Quakers and Unitarians, and has danced in many parts of the world seeking spiritual wisdom. Her most recent journey pre-pandemic was to Egypt, where she danced and meditated at sacred sites, and felt a deep connection to Isis, the Great Mother. Her life's calling is to share Sacred Dance as embodied spirituality, a way to directly experience the Divine Feminine.