Sacred Circle Dances to celebrate the Winter Solstice with Maggie Moon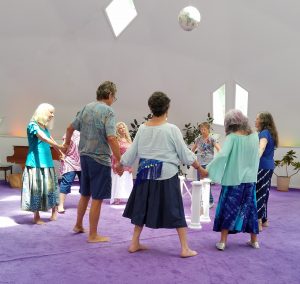 We have entered the time of the shortest days and longest nights of the year.  Please join us in Sacred Circle Dances to celebrate the Winter Solstice, the return of the Light,
Masks are required for dancers. All are welcome, high school and older.  No previous experience or partners needed, each dance gently taught.  Newcomers warmly welcomed, so come and bring a friend!
For this Winter Solstice event, we request that you WEAR ALL WHITE if you can, or at least something white, like a scarf, symbolizing the Light returning.
This will be the final Light Center Sacred Circle Dance until March, 2023.
Blessings!  Maggie Moon
Suggested Donation $15, all proceeds benefit the Light Center.
Maggie Moon O'Neill has been leading Sacred Circle Dance for over 20 years for groups large and small all over the country. Maggie worships with Quakers and Unitarians, and has danced in many parts of the world seeking spiritual wisdom. Her most recent journey pre-pandemic was to Egypt, where she danced and meditated at sacred sites, and felt a deep connection to Isis, the Great Mother. Her life's calling is to share Sacred Dance as embodied spirituality, a way to directly experience the Divine Feminine.